JD Power EV Buyer Satisfaction Survey Reveals Best Electric and Plug-in Cars of 2023
The US Electric Vehicle Experience (EVX) Ownership study, in its third edition, reports the ranking of best electric cars and plug-ins 2023. The investigation of J.D. Power assesses the satisfaction of buyers of plug-in electric cars from the first year of ownership. The classification identifies the premium and mainstream cars and brands that generated the greatest satisfaction among consumers in 10 categories. Here are the results in detail.
JD POWER'S SURVEY OF THE BEST ELECTRIC AND PLUG-IN CARS
"The electric vehicle landscape is changing rapidly and new models are increasingly attracting new plug-in car buyers"he stated Brent Gruberexecutive director of the JD Power EV practice. "THE the owners electric vehicles they are looking for quality, reliability, driving pleasure, safety and technological characteristics". The 2023 study includes 10 evaluation criteria for questions posed to 7,073 BEV and PHEV owners from the year 2022 – 2023:
accuracy of declared battery life;
availability of public charging stations;
battery life; cost of ownership;
driving pleasure;
ease of home charging;
internal and external design;
safety features and technology;
customer service;
quality;
vehicle reliability.
The study reveals that the satisfaction of new owners of electric cars is higher than that of those who already owned an electric car for the quality and reliability of the vehicle (756 against 749). While 68% of new mass electric car owners they bet lower operating cost and tax credits/incentives, 75% of high-end electric vehicle owners they mainly sought the performance conduct.
MOST FREQUENT PROBLEMS IN NEW ELECTRIC CARS
THE infotainment system problems continue to be more common among owners of mass electric cars (19.2 problems found per 100 vehicles, 19.2PP100). Among the owners of high-end electric carsthe most common problems are squeaks and noises (17.5PP100) and external (13.6PP100). The biggest satisfaction gap between premium and mainstream BEV owners is the availability of public charging, which is heavily influenced by the Tesla charger network. Among owners of premium electric cars, satisfaction with the public charging availability is 589, while satisfaction among mainstream plug-in car owners is 341. The ability to tow with electric cars also makes owners happier. Satisfaction is higher among EV owners who used their vehicle for towing (779) than among those who did not (753). There autonomy satisfaction it is higher among owners who have towed (635) than among those who have not (617).
JD POWER SURVEY BEST ELECTRIC AND PLUG-IN CARS OF 2023
Between the best premium electric and plug-in cars according to the JD Power survey, the Rivian R1T it ranks first overall and first in the BEV premium segment with a score of 794. Rivian's sale in Europe is hanging on a collaboration between Startup USA and Mercedes-Benz, far from a formal agreement. In second place is the Tesla Model 3 (759) which, along with Rivian, has an above-average approval rating of 756. Click on the image below to see it full width.
The American investigation chooses between the best electric cars and mass plug-ins there MINI Cooper Electric in first place with a score of 782. Followed by Kia EV6 (762), Ford Mustang Mach-e (742), Hyundai Ioniq 5 (738), Volkswagen ID.4 (735) and Kia Niro EV (733), with a score above the average of 730. Click on the image below to see it full width.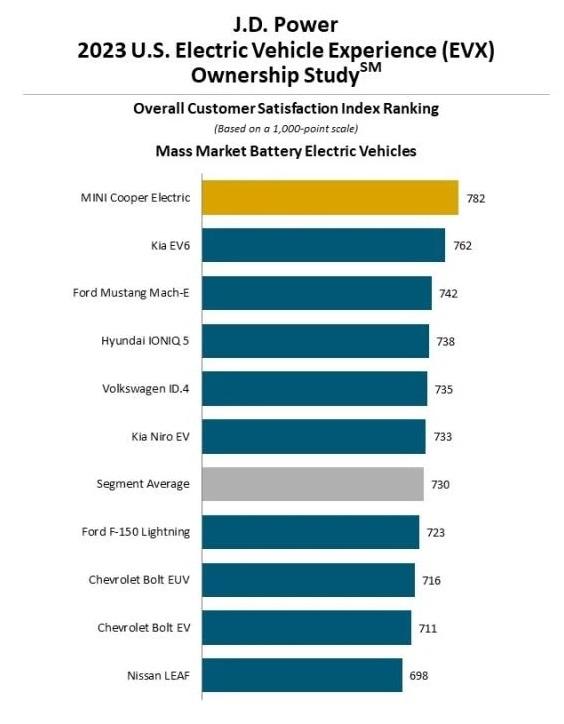 Source : Sicur Auto