We explain how the Ferrari Purosangue's 48V active suspension works and what changes in relation to adaptive systems and tires
Thoroughbred Ferrai this could be considered a bet by purists, and as such, Maison Maranello has not spared itself innovative solutions. Much has already been said about the characteristics and price of the Ferrari crossover, which is why in this review we want to talk in particular about the Ferrari 48V active suspension also known as TASV (TrueActive Spool Valve). Here is how do they work.
FERRARI PUR-BLOOD 48V SUSPENSION AND DIFFERENCES WITH ADAPTIVE AND PNEUMATIC
THE active suspension of the Ferrari Purosangue they could literally negate the physical effects related to driving dynamics, such as lateral pitch and roll. However, this would be tantamount to eliminating signals that convey fundamental sensations to the driver, such as lateral acceleration in a bend. Ferrari says it could have easily made the Purosangue setup neutral, but preferred to keep some body roll. All the others advantages in comfort and active stability of the frame instead they remain. But be careful not to confuse the 48V Ferrari TASV active suspension with adaptive or air suspension. let's see them differences:
the suspensions pneumatic they adjust the height and response of the shock absorbers according to the driving style or program in a progressive manner. They usually run on air and take a while to adjust;
the suspensions adaptive instead, they primarily affect the operation of the car's shock absorbers, varying valve timing.
HOW THE FERRARI THROUGHBRED ACTIVE SUSPENSION LOOKS MADE
THE Ferrari Purosangue suspensions were developed by multimatic in collaboration with the Maranello engineers to combine the functions of driving comfort and stability. Two antagonistic characters, who find harmony thanks to:
A Control unit for each shock absorber, which manages operation based on signals from the car's inertial sensors;
A 48V motor which activates the shock absorber rod every 5 hundredths of a second;
a tree a worm driven by 48V motors acting on the rod;
made of liquid cooling for control unit and 48V motor;
there coil springalways present, but which above all contributes to driving comfort, while rigidity is entrusted to electronic management.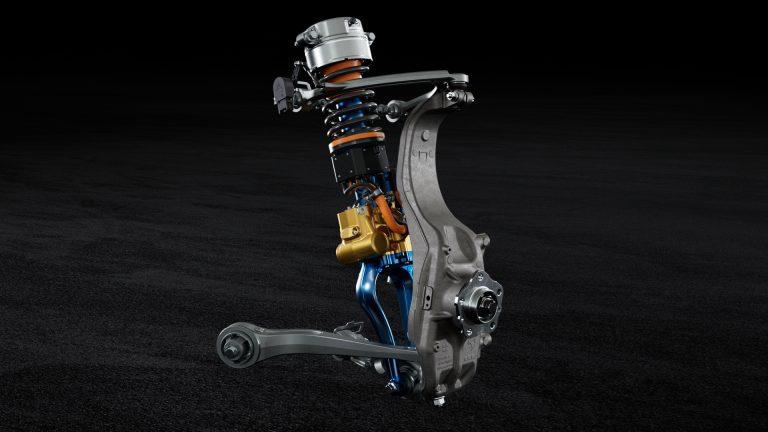 HOW THE FULL FERRARI 48V SUSPENSION WORKS
Ferrari states that with 48V active suspension weight increased by approx. 45 kg more compared to a traditional adaptive system. To this must also be added the weight of the 48 V battery, which is nevertheless present as an auxiliary battery on the most equipped cars. Based on the inputs the control module receives, 48V motors they can lower or raise the rod height every 0.05 seconds with a force of more than 500 kg. Thanks to this system, Ferrari manages to counter load transfers and body movements, almost eliminating lateral roll and maintaining the load on the tires, as the Maranello company claims. So much so that the Of race It does not need anti-roll bars.
Source : Sicur Auto