Used electric car prices are collapsing: up to 30% devaluation in one year in the USA, mainly involving Teslas
Alarm for owners of electric car with a view to future resale: the BEVs seem depreciate much faster conventional motor cars. This is demonstrated by an American study according to which in June 2023, in the USA, used electric car prices have fallen by almost 30% year-on-year, compared to just -3.6% for generic used cars. And the trend is getting worse month after month.
PRICES OF USED ELECTRIC CARS: THEY ARE FALLING
In detail, according to the iSeeCars.com study (which looked at 1.8 million used cars between 1 and 5 years old), while in June 2023 used car prices fell by less than 4 % (precisely -3.6%) year on year for the third consecutive month, stabilizing, used electric car prices fell nearly 30%. But what worries most is the progression of the downward trend of used BEV prices: it fell from -8.8% in January 2023 to -16.8% in March until -29.5% in June.
FOR June 2023 in the United States, the average price of a 1-5 year old used car was $32,811, only $1,237 (-3.6%) less than the same month a year earlier. Also in June 2023, the average price of a used electric car (1/5 years) was $40,916with a loss in value of $17,098 in just 12 months (-29.5%).
THE ELECTRIC CAR MARKET IN DIFFICULTY
According to analysts at iSeeCars.com, in the spring of 2022, the war in Ukraine had caused the price of oil to skyrocket, pushing consumers towards electric cars. Yet a year later fuel prices have stabilized, interest rates have risen and buyers, therefore, are evaluating the purchase of a car much more cautiously, trying to take advantage of the most favorable offer. None of these factors contribute to the increase demand for electric vehicles.
USED ​​ELECTRIC CARS: THE MOST DEPRIVED MODELS
But which are the models for which there is greater used devaluationincluding BEV and ICE? Tesla occupies three of the first four places in the special ranking, with the Nissan Leaf completing the picture. Also according to the study, the arrival on the market over the past two years of many new electric vehicles, often less expensive and just as efficient, has made the different Model 3, X, S and Leaf are less attractive which previously dominated the reference range.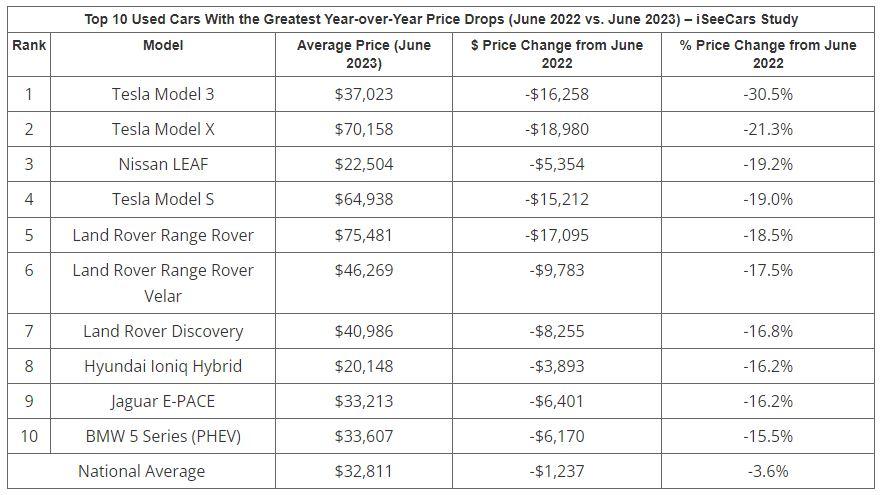 It must be said that despite the general price trend, not all used cars lose value. Several high-end used models, for example the Mercedes-Benz SL-Class, have seen their prices increase since June 2022, confirming the continued demand for high-end cars and SUVs.
The study ends by stating that although I used car prices in the United States, they are still well above pre-pandemic levels, but they are down from last year's peaks and should stabilize in the next 6-12 months. Therefore, consumers looking for a used car can already find good offers, especially on Used Tesla which have lost a lot of value over the last year.
Source : Sicur Auto