A newer, more comfortable and safer car weighs on average 200 kg more: here are some concrete examples of the evolution of certain models
THE new cars they are unquestionably more comfortable and safe compared to previous generations. For models that, in addition to the name, have kept the attribution to a particular segment over the years, it is easier to study changes in height and weight. An analysis by Felipe Munoz, from Jato, opens up some thoughts on the impact these changes are having on fuel consumption and safety in the event of an accident with other vehicles.
NEW CARS: WHY ARE THEY CONTINUOUSLY CHANGING?
THE new cars which leave the Manufacturers' factories must meet specific safety and environmental criteria for approval Compliant with current regulations in the market for which they are intended. This is the main reason why car manufacturers often decide to update vehicles already in their price lists, discontinue production or replace them with different models that recall iconic names. All other features of new cars which do not fall under specific regulations, the Manufacturers choose them according to:
trend of sales;
market research and preferences potential customers;
savings scale;
competitor and bodies with strong influence, such as independent bodies that crash test vehicles, Consortia and Automobile Clubs.
SOME EXAMPLES OF NEW CARS WEIGHTING UP TO ALMOST 300 KG MORE
They are in a very sketchy way the factors that influence the characteristics of new cars which, according to an assessment by Felipe Munoz shared on Linkedin, they are increased height and weight. Munoz gives some representative examples of models that have kept the trade name alive through several generations:
Renault clio has seen in 5 generations an increase in length of +341 mm (from 3709 mm on Clio I to 4050 mm on Clio V) and +287kg (from 892 kg of the Clio I to 1179 kg of the Clio V).
volkswagen Golf has seen a length increase of only +96 mm in 5 generations (from 4188 mm in the Golf V to 4284 mm in the Golf VIII) and +207kg (from 1232 kg for the Golf V to 1439 kg for the Golf VIII).
Ford Explorer has undergone over 5 generations a length increase of +211 mm (from 4844 mm of the Explorer II to 5055 mm of the Explorer VI) and +93kg (from 1916 kg of the Explorer II to 2009 kg of the Explorer VI).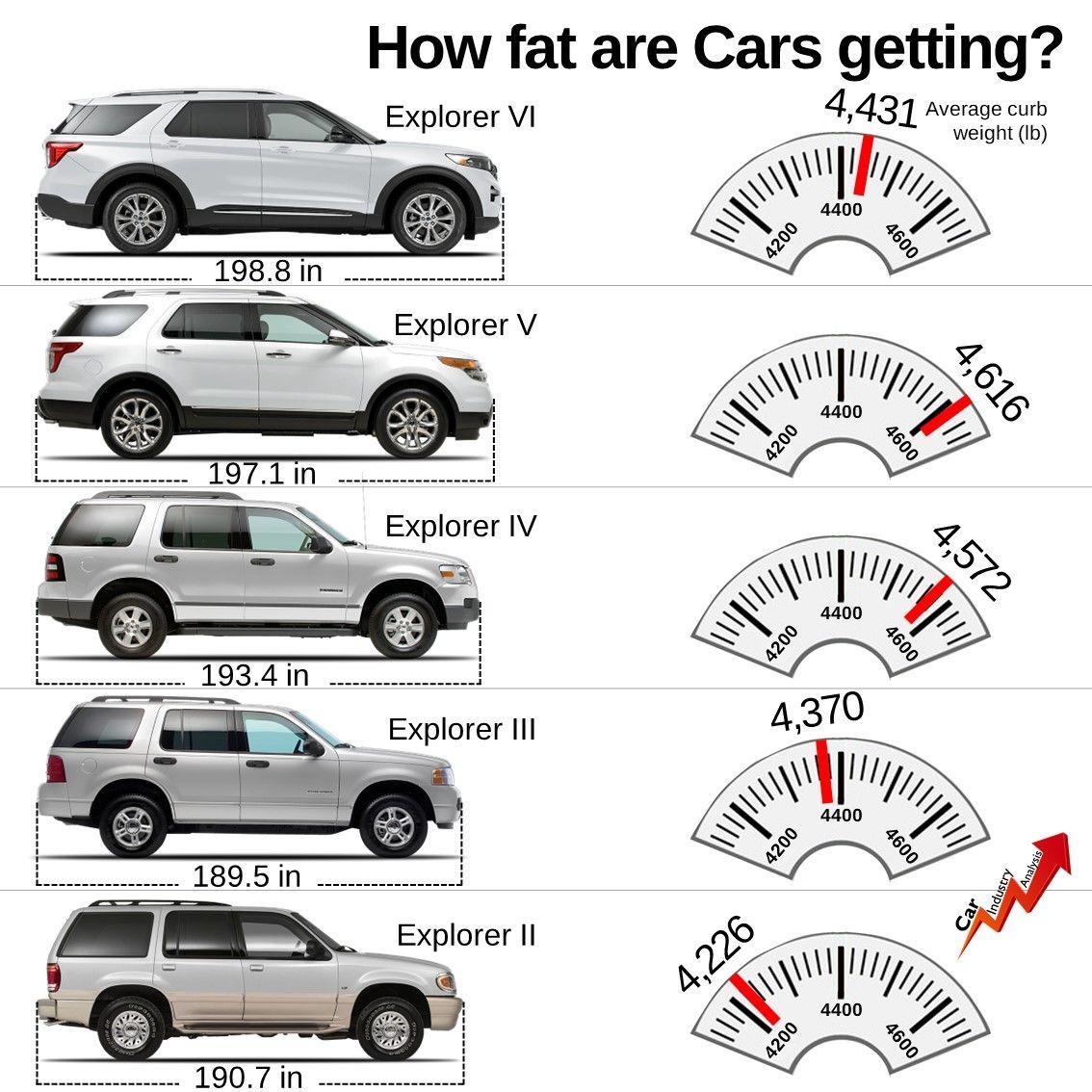 Toyota Corolla has undergone in 5 generations an increase in length of +320 mm (from 4315 mm of the Corolla VIII to 4635 mm of the Corolla XII) and +210kg (from 1113 kg of the Corolla VIII to 1323 kg of the Corolla XII).
HEAVIER NEW CARS, BUT WHAT EFFECTS ON CONSUMPTION AND SAFETY COMPARED TO OTHER VEHICLES?
I'weight gain and passive car safetyin addition to comfort, are often tied with a double knot, it is also for this reason that independent organizations such as Euro NCAP and IIHS have started to carry out crash tests for compatibility between vehicles of different masses, but this is not is only recently. Felipe Munoz in fact he writes that: "Automotive obesity is a growing problem in the industry. As safety standards become stricter and consumers demand more comfort, automakers are producing larger cars. And more volume usually means more weight. More demanding cars in terms of fuel consumption with a greater impact on emissions, without excluding the effect on performance".
Source : Sicur Auto